Pram curtain
KURTIS PEACE BABY
Kurtis Baby Peace pram curtain - panda (rose)
In stock
Qty: pcs
Baby Peace is an organic sun/wind protector which gives your baby a calm environment in their pram to nap.
Kurtis Baby Peace is a pram curtain that easily attaches to the hood of your pram or push chair, shielding your baby from bright light disturbing visual elements and the sun.

This product is the perfect tool to help your baby settle and fall asleep anywhere. In a busy street, on the bus, when shopping, on countryside walks -simply in any situation you can imagine. Kurtis Baby Peace also makes a great sun protector. The fabric blocks out an amazing 99% UVA and UVB radiation. The pram curtain is designed to hang loose and you leave a gap to provide good air circulation for your baby.

The ring attachment enables you to slide the curtain. This means that you are always able to adjust the position of the curtain to provide that coverage you need for your baby. You can easily check on your baby at any time. The strings on the side can be used to fasten the curtain when it's windy.

Tip! On hot days you can use the product as a sun canopy ; attach the pram curtain to the handlebar of your pram with two extra rings. (buy separetely).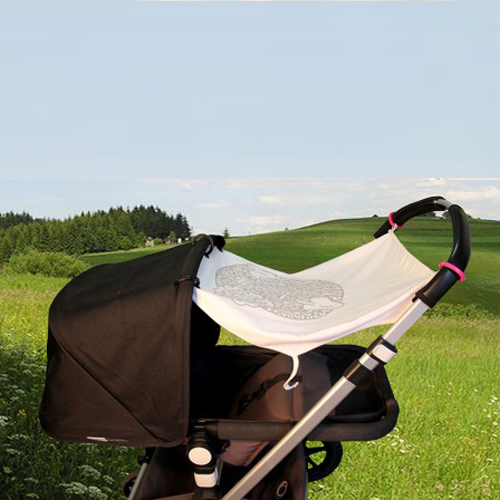 Three rings to attach the product to the hood of your pram are included.

Safety: meets all European safety standards.


WARNING: This product does not protect against heat. NEVER TOTALLY COVER THE PRAM.